Are You Considering Dermal Fillers in Toledo, OH?
Dermal fillers add volume and minimize facial wrinkles and deep folds (including mid face, temples, lines around mouth and lips) —without downtime or surgery!

To meet your specific needs and desires, Anders Dermatology offers a large selection of fillers.
SCULPTRA
Sculptra® is a unique injectable that naturally stimulates the restoration of the collagen that is lost during the aging process. Sculptra® increases the underlying volume in the key areas of facial support: the temples, cheekbones, the mid-face and jawline. Sculptra® results were clinically shown to last for at least two years! In actuality, the only thing that will remove the natural volume that Sculptra® restores is the natural aging process. The dramatic results that we can obtain with Sculptra® will last you for many years to come.
JUVÉDERM
The Juvéderm® family of products uses a fine needle to fill the soft tissue of the dermis, adding volume and instantly smoothing away wrinkles around your mouth and nose. With just one treatment, you'll get smooth and natural-looking results that last up to a year. Juvéderm XC uses Hylacross™ technology for a smooth-gel structure that holds up over time, making it the first smooth-consistency hyaluronic acid gel and the only hyaluronic acid filler to continue to deliver results for up to one year with only one treatment. Juvéderm Voluma™ XC is FDA-cleared to instantly add volume and contour to the cheek area, and Juvéderm Ultra™ XC is for injection into the lips and perioral area for lip augmentation.
These before and after images of this patients lips and marionette lines were taken almost a month apart,
and she was injected with Juvéderm by our talented Tracy Rosplohowski, CNP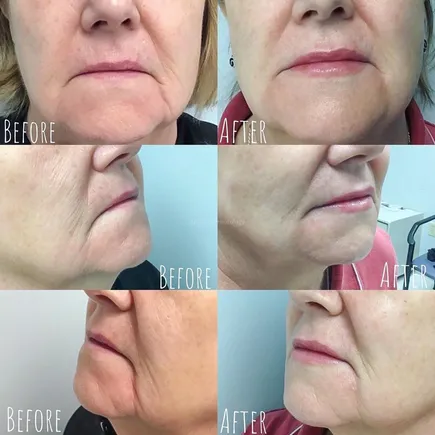 Find out which of these fillers can best help you achieve the naturally rejuvenated look you're looking for.
Call Anders Dermatology at (419) 473-3257 to schedule an appointment today!
Dermal Fillers Clinical Results
BEFORE
AFTER
Post Treatment Regimen
BEFORE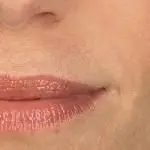 AFTER
Post Treatment Regimen